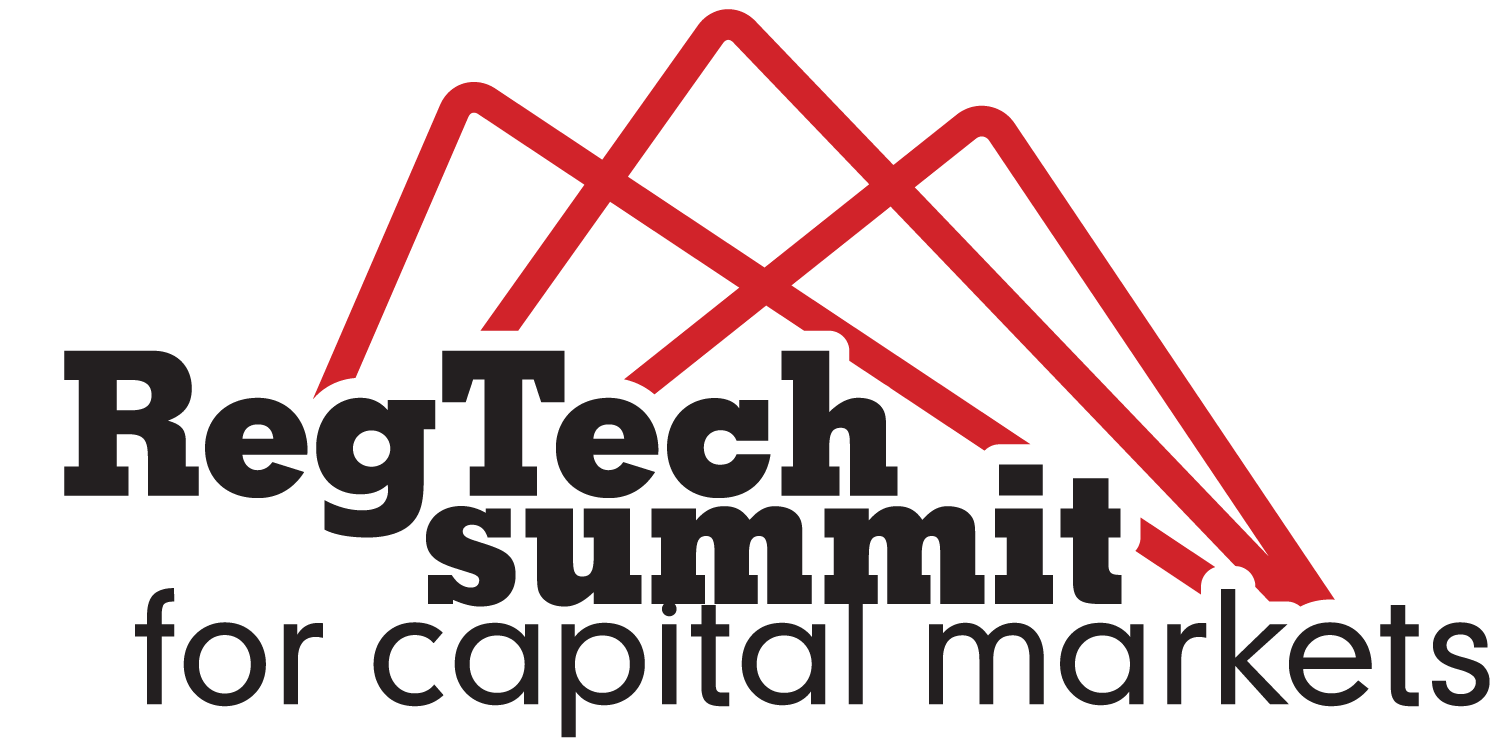 Agenda
New information for 2018 coming soon.
Leveraging technology to drive innovation, cut costs and support regulatory change
#RegTechSummitLondon
REGULATORY REPORTING
MANAGING REGULATORY CHANGE
INNOVATIVE TECHNOLOGIES - AI, MACHINE LEARNING, BLOCKCHAIN
DATA MANAGEMENT
trading technology
FRTB
GDPR
MIFID II
KYC
MAR
8.00
Registration and Networking over Coffee
8.50
Chair's Opening Address: Andrew Delaney, Chief Content Officer, A Team Group
9.00
Opening keynote: The state of RegTech and what is to come - a view from Citibank
Sophia's keynote will explore:
The relationship between RegTech and the regulatory landscape
Examples of RegTech solutions and the relationship with Fintech
RegTech trends, investments in the sector, challenges and hurdles for adoption
How Citibank are shaping global FinTech policy
Sophia Bantanidis, Transaction Banking, EMEA Head of Regulatory & Market Strategy, Citi
9.30
Keynote User Panel: Overcoming the barriers to RegTech
Making the business case: Cost vs. benefit - assessing which RegTech solutions are right for your firm and will fit your operating model
Encouraging innovation and culture change in large organisations with legacy Systems, siloed data/ technology and a lack of a joined up approach across the business 
Getting compliance on board and managing the different stakeholders involved - what conversations should you be having?
The need for collaboration to move forward
Moderated by: Andrew Delaney, Chief Content Officer, A-Team Group
Nicole Sandler, VP Resolution and Recovery Planning & Fintech - EMEA Legal lead, Barclays
Peter Stephens, Head of Blockchain & UK Innovation, UBS AG
Gary Goldberg, CDO, Mizuho International Plc
Nick Cook, Head of RegTech & Advanced Analytics, Financial Conduct Authority (FCA)
Kevin Barry, Head of Trading & Compliance Technology, Janus Henderson Investors
10.15
Keynote Interview: Talking RegTech
Setting the scene: Understanding the current regulatory environment: How ready are firms for MiFID II?
What challenges does the RegTech revolution pose to the compliance function?
What skill sets will the compliance professional of tomorrow need to possess?
​How does the compliance function need evolve?
Interview with: Christian Krohn, Head of European Regulatory Reform, Standard Chartered Bank
Interviewed by: Andrew Delaney, Chief Content Officer, A-Team Group
10.40
Networking and Refreshment Break
11.10
Thomson Reuters Keynote Interview: RegTech in the broader risk ecosystem
Setting the scene : What's the broader Risk ask that is in part answered by today's RegTech?
​What are the challenges in ensuring RegTech is plugged into the broader Risk ecosystem?
​How might successful adoption lead to greater RegTech leverage and innovation?
Interview with: Philip White, Business Development, Financial & Risk, Thomson Reuters
Interviewed by: Gareth Evans, Managing Director, Enterprise Risk Management, Thomson Reuters
11.40
SmartStream RDU Keynote: MIFID II reference data challenges
Joseph Turso, Vice President of Product Management, The SmartStream Reference Data Utility (RDU)
12.10
RegTech Showcase
Five minute demos from selected technology innovators showcasing their regulatory compliance solutions
Moderated by: Sarah Underwood, Editor, A-Team Group
Demo 1: Onfido
James Baston-Pitt, Head of KYC, Onfido
Read James's RegTech Q&A here
Demo 2: Encompass
Mahesh Jugoo, Senior Manager, Business Development, Encompass
Read Mahesh's RegTech Q&A here
Demo 3: Alyne
Stefan Sulistyo, Co-Founder & Chief Customer Officer, Alyne
Read Stefan's RegTech Q&A here
Demo 4: RegTek Solutions
David Morris, Product Manager, RegTek Solutions
Read David's RegTech Q&A here
12.50
Networking Lunch in the Exhibition Area
13.50
STREAM A (TOWER SUITE 1)
MIFID II



Chaired by: John Mason, Global Head, Regulatory & Market Structure propositions, Financial & Risk Division, Thomson Reuters

PANEL: Reducing complexity and minimising costs to meet MiFID II reporting obligations and beyond

Harmonised data for consistent regulatory reporting: How can RegTech help improve data collection, data normalisation and data quality for reporting 
Progress on data standards across MIFID II & EMIR, ISO standards, similarities and differences with LEIs and ISINS; Practical applications of data standards in the marketplace
Using RegTech to ease reporting commonality of approaches across regulations?
Integrating RegTech into existing infrastructure: data and technology challenges 
Working with third parties: Considerations for choosing and connecting to an ARM (Approved Reporting Mechanism)/ APA (Approved Publication Arrangement)

Moderated by: Ian Rennie, Director of Kaizen Reporting and assigned Regulatory Reporting SME at Tier One bank 
Clare Rowley, Head of Business Operations, Global Legal Entity Identity Foundation, GLEIF
Adedayo Banwo, Senior Counsel, Deutsche Bank 
Matt Smith, Chief Executive Officer, SteelEye
**Read Matt's RegTech Speaker Q&A here**
Gouri PKhatua, MiFID II Project Manager Compliance, Europe, Rabobank
Joseph Turso, Vice President of Product Management, The SmartStream Reference Data Utility

STREAM B (TOWER SUITE 3)
NEW INNOVATIONS FOR OPTIMAL REGULATORY COMPLIANCE 



Chaired by: Sarah Underwood, Editor, A-Team Group

PANEL: Applying innovative technologies to manage risk and to improve KYC, Onboarding and AML

How well are firms streamlining KYC processes as part of the onboarding and AML to create competitive advantage?
Using new digital identities for KYC and onboarding as part of the digital transformation agenda 
What progress are we seeing with the application of AI and Machine Learning to speed up and improve efficiency of the KYC and Onboarding, AML and ATF (anti-terrorist financing) due diligence processes?
How does technology help firms manage anti-money laundering and financial crime risks better and and apply a more effective risk-based approach?
A new model for KYC? To what extent are blockchain and emerging technologies improving the KYC and Onboarding process?

Moderated by: Roland Guennou, KYC Industry Professional 
Mike Budden, Director – Head of UK Client Onboarding, Barclays 
Kelvin Dickenson, VP Compliance & Data Solutions, Opus 
Marisol Lopez, Regional Head of Policy & Standards, Thomson Reuters 
14.30
STREAM A

PANEL: Beyond implementation: How can RegTech help relieve the MiFID II burden 

What investments can firms make to improve efficiencies and minimise overheads that have been  gained to get to implementation stage?
What approaches should firms take to start rationalising reporting, improving controls and data quality?  
How can RegTech help buy side firms streamline and automate back office processing? To what extent should back office processes be automated?

Moderated by: John Mason, Global Head, Regulatory & Market Structure Propositions, Financial & Risk Division, Thomson Reuters
Beate Born, Global MiFID II Project lead, UBS
Matthew Luff, MiFID II Consultant, Janus Henderson Investors 
Matt Smith, CEO, SteelEye 

STREAM B

PANEL: Building the right toolbox for your surveillance activities under MAR and MAD: what are the options?

What is the right approach?  No one size fits all: the importance of aligning with your business model
How do you organise – should the front, middle or back office take responsibility?
What is the right balance of legacy reporting technology vs. new technology?
Controls and privacy concerns about surveillance
Assessing the effectiveness of surveillance programmes

Moderated by: Mike O'Hara, Partner, The Realization Group 
Paul Clulow-Phillips, Managing Director – Global Head of Capital Markets Surveillance (CMS), Societe Generale
Cromwell Fraser, Vice President, Communications Compliance Line of Business, NICE
Magnus Almqvist, Head of Technology Sales, Aquis Exchange 
Nuno Hortensio, Global Audio Surveillance Product Manager, HSBC
Paul Liesching, Global Head of Financial Markets, Truphone 
15.10
Networking and refreshment break
15.40
Regulator Keynote: Data Standardisation as a solid foundation for RegTech
Beju Shah, Head of Data Collection & Publication; Technology Directorate, Bank of England
Learn from our Regulatory expert, Beju Shah who is leading data standardisation initiatives at the Bank of England and who has successfully standardised data to help drive efficiencies and lay the foundations for RegTech solutions.
Session under Chatham House Rules
16.10
Panel: GDPR: A game changer - are you ready?
Personal data has the potential to be the next subprime.
Company and asset valuations have not yet priced in GDPR risk. The opportunities for regulation technology are ripe, but so are the wider market risks.
Data Management challenges: Identifying private data, customer consent management, building privacy by design
Designing and building a workflow for GDPR compliance 
Will we see the rise of Data Protection Officers across firms? What will fall under their remit?
Managing your supply chain and working with 3rd parties
What should a GDPR technology solution look like to minimise counterparty risk?
Moderated by: Chiara Rustici, Independent GDPR Analyst
John Stuart-Clarke, Senior Manager Data Protection and Lead Product Owner GDPR & ePrivacy Regulation, Aviva Insurance UK
Dean Armstrong QC,  2 Bedford Row
Diana Paredes, Founder & CEO, Suade
Colin Ware, Regulatory Product Manager (Asset Servicing), BNY Mellon
16.50
PANEL: Fundamental Review of the Trading Book (FRTB): A Transformational opportunity
Tackling the data and data management requirements preparing for FRTB; managing non-modellable risk factors 
Challenges around identifying time series data 
How could the modelling elements of FRTB impact trading desks?
What technology infrastructure upgrades are required?
How much of FRTB should you automate vs. keep as manual process?
To what extent can we use other regulations such as Volcker and MiFID II to help organise FRTB?
What should the implementation priorities be for 2017/2018?
Moderated by: Selwyn Blair-Ford, Financial Regulatory Specialist
Jerry Goddard, Director, Wholesale Risk, Santander
Jacob Rank-Broadley, Director, Regulatory & Market Structure Propositions, Thomson Reuters 
Vinod Bhaskaran, Solution Lead, Treasury & Capital Markets, Finastra
Mike Fox, FRTB Implementation Consultant 
17.30
Networking & Drinks Reception - Sponsored by Thomson Reuters 
Please note: This programme is subject to change.
Thanks to all our Sponsors
Past Sponsors and Partners
Become a sponsor
Want to sponsor RegTech to make real connections with senior decision makers?
We offer a comprehensive selection of sponsorship opportunities which provide a superb platform for you to raise your corporate profile, be seen as thought leaders, conduct highly valuable face-to-face networking, and generate real sales leads.
Find out how you can sponsor or become an exhibitor, or to ask a question, contact:
Jo Webb
Tel: +44 (0)7468 560 555
Email: jo@a-teamgroup.com
James Blanche
Tel: +44 (0)7899 392 992 / +44 (0) 20 7096 0387
Email: james@a-teamgroup.com
Got a question?
Get in touch
© 2018 A-Team Group. All rights reserved.