Regulation topped the agenda at last week's A-Team Group Data Management Summit, although it was followed closely by issues including the transformation of data to information, data lineage, utilities, Know Your Customer ( KYC) and client onboarding, data quality, operations models, data stewardship and more!
Keynotes and Presentations
Introduced by Andrew Delaney, chief content officer at A-Team, risk manager Simon Tweddle opened the conference with a keynote looking at the importance for financial institutions to produce information rather than data to drive business change, and the critical need to ensure information security across a firm and ahead of threats from cyber attacks.
Tweddle described information as a guide that helps managers make intelligent decisions and an essential component of regulatory compliance. Noting that everyone needs information, he concluded that if you can provide it, you will shine.
A second keynote presented by JR Lowry, head of global exchange EMEA at State Street, described how to create a data management culture, noting the need for strong data strategy and governance, senior management buy-in, data literacy, and a change in mindset from thinking of data as transaction based to viewing it as an asset. With these elements and a shared infrastructure and workflow in place, Lowry noted the potential to lower the cost of data, improve risk management and enhance performance.
A later presentation by Peter Moss, CEO of the SmartStream Reference Data Utility (RDU), talked to the title 'Why should a data management utility matter to you?' Citing a recent McKinsey report, 'Tough Choices and Bold Actions', which highlights the need for change in a market characterised by flat revenues, low returns on equity and waves of regulation, Moss suggested the choice to use a reference data utility would provide significant operational savings. Talking specifically about the SmartStream RDU, he described its ability to mutualise common data processes across the industry, consolidate best practice data management, and drive automation. The benefits? An opportunity to create more effective automation, reduce the cost of breaks, decrease regulatory risk and improve customer satisfaction.
Regulation – planning for 2017
Turning to regulation, Delaney led a panel session that discussed how to plan strategy for 2017 that will establish a holistic approach to regulatory requirements. He noted a recent A-Team White Paper on data commonality across regulations and the need to harmonise approaches to compliance, which was sponsored by Thomson Reuters and includes a survey of nearly 70 senior data managers.
Featured Download: Harmonising the Approach to Regulatory Compliance
The panel speakers – Chris Johnson, senior product manager, market data services, HSBC Securities Services; Ganesh Uttam, project manager, regulatory client data and KYC compliance, RBC Capital Markets; Naomi Clarke, independent consultant, The Process Transformation Company; and Meredith Gibson, director, Meredith Gibson Advisory Services – shared their views on the top three regulations that will present data management challenges next year, noting particularly Markets in Financial Instruments Directive II (MiFID), Markets in Financial Instruments Regulation (MiFIR), Securities Financing Transactions Regulation (SFTR), General Data Protection Regulation (GDPR), and ongoing implementation challenges around BCBS 239 and Solvency II. To find out more about these and many other regulations, download the fourth edition of the A-Team Regulatory Data Handbook that was launched at the Data Management Summit.
Need to know all the essentials about the regulations impacting data management? Download the Fourth edition of our A-Team Regulatory Data Handbook
Panel members warned data managers of the need to be preparing for MiFID II and MiFIR now, even though the regulations' deadlines have been pushed back to January 2018. On this, one panel member quipped that firms will, for the first time, have to take an 'agile' approach to regulation as final Regulatory Technical Standards are not yet complete, despite the need for European Commission member states to transpose MiFID II into local legislation by July 2017.
Commonality of data across regulations was also discussed, along with the need to create data dictionaries that give business users the data they want. While firms tackle regulations to ensure timely compliance, the panel was not so sure that regulators will be prepared for next year's deadlines.
MiFID II
Diving deeper into MiFID II, a further panel – with speakers including David Masters, operations regulatory reporting referential data coordinator, Société Générale; Ayaz Haji, MiFID II head of technical architecture and data strategy, Goldman Sachs; Mark Frith, regulatory change manager, HSBC; and Nick Idelson, technical director, TraderServe – named real-time reporting and T+1 transaction reporting, requirements for data quality, and the need to obtain certification for algos used in trading as onerous elements of the regulation, along with the mandate to use ISINs for all securities, despite their heritage in equities and difficulties in applying them to derivatives. Similarly, obligations that tie together pre- and post-trade processing are expected to challenge firms with disparate systems rather than a common data architecture.
The panel suggested financial institutions should take a strategic approach to data management for MiFID II, but acknowledged that the compliance timeframe is likely to mean a fall back to some tactical solutions and complete compliance taking a few years. Considering regulators' understanding of data, a panel member suggested a lack of understanding could lead to MiFID III! Will Brexit have an impact on how firms approach MiFID II? Absolutely not, agreed the panellists.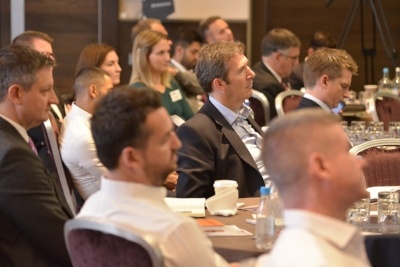 GDPR
Also on the regulatory agenda was General Data Protection Regulation (GDPR), which is due to take effect in May 2018. A panel session on the implications of GDPR for financial services firms – including Cameron Craig, deputy general counsel, group head of data privacy, Group Legal, HSBC; Garry Manser, head of data governance, Visa Europe; and Nathan Coffey, executive director, EMEA head of data privacy and technology compliance, JP Morgan Chase – noted the scale and complexity of the regulation, huge fines of up to 4% of group annual turnover for non-compliance, requirements for data protection by design, and the need to be able to demonstrate compliance to regulators, particularly in the case of breaches.
While the regulation is largely targeted at firms like Google and Facebook, and regulated by information rather than financial regulators, financial services firms must comply. Suggested solutions for GDPR compliance included flagging systems that must be addressed, prioritising processes and adding controls, taking time to check gaps in compliance, and bringing together chief data officers and privacy teams to take a joint approach.
A systematic approach to compliance
Looking at the potential of systemic regulatory compliance and operational risk reduction, independent consultant Rupert Brown described how compliance and operational risk mitigation could become an automated electronic supply chain built with elements including event-based linkage between regulatory compliance and risk, XML and semantics. This would avoid different and subjective interpretation of regulations. He concluded that technology will ultimately force service industries to adopt an engineering mindset with a focus not on transaction risk, but on supporting process and data risk.
Data lineage
Data lineage proved to be a very hot topic at the Data Management Summit with panel speakers – Tom Dalglish, senior data and integration manager, HSBC; Brian Sentance, CEO, Xenomorph; Stephen Veasey, CEO, 3D innovations; James Longstaff, vice president, data architecture, Deutsche Bank; and Sue Habas, vice president, strategic technologies, data intelligence, ASG – debating the differences between lineage and traceability, regulations driving data lineage, such as BCBS 239, business cases for implementation, challenges, and a step-by-step approach to establishing data lineage frameworks.
The panel warned that implementation is difficult, particularly for organisations with multiple legacy systems – a reflection of poll results from a recent A-Team webinar on the topic – and said data lineage must be sustained on an ongoing basis.
Featured Download: Poll results on implementation progress and key challenges of implementing data lineage from our Data Lineage webinar audience
Sell-side and buy-side sessions
The Data Management Summit took a new approach to sell-side and buy-side interests this time, running separate dedicated streams.
On the sell-side, conversation covered the challenges of KYC and client onboarding. The panel speakers – Julia Sutton, group head of customer data strategy, HSBC; Philippa Christian, director, GRC solutions (UK & Ireland), Bureau van Dijk; Ben Gould, vice president, head of sales EMEA and APAC, Alacra; and Guillaume Carreno, head of ebusiness onboarding and MIS, global markets division, Credit Agricole Corporate and Investment Bank – discussed issues around progress, regulation, business drivers, entity data, emerging technologies, and the business and operational benefits of successful implementation programmes. But they cautioned that the costs of KYC and onboarding are still too high at many banks and more innovation and development must be implemented to ensure streamlined processes and compliance.
Also on the sell-side, a panel – including speakers Mark Wilson, head of data quality, Handelsbanken; Sue Geuens, president, DAMA International, head of data standards and best practice adoption, Barclays; Lee Phillips, head of data quality, BNY Mellon; and Garry Manser, head of data governance, Visa Europe – considered new approaches to data quality driven by both regulatory and business needs. The panel went on to outline how best data quality can be measured, metrics for the task, the role of data governance in quality, and emerging technologies, such as artificial intelligence and cognitive technologies, that are expected to support improvement.
On the buy-side, a panel of speakers – including Siobhan Doyle, head of investment operations, Schroders; Vipul Chandna, head of business solutions, Sarasin & Partners LLP; Peter Moss, CEO, SmartStream Reference Data Utility; and Richard Dodds, managing director, head of projects and consulting group, State Street – discussed models and approaches to managing data operations. The panel considered data models available to asset managers considering alternatives to in-house operations, practical issues around adoption, and how best to manage data licensing issues.
A second buy-side panel – moderated by Naomi Clarke and joined by Louise Head, associate director, performance analysis, Hermes Investment Management; Dennis Slattery, CEO, EDMworks and designer of the data management agenda for privacy; and Dhivya Venkatachalam, head of data governance, Schroders – reviewed the role of data stewards and data sponsors in winning buy-in for data management and governance programmes, as well as the practicalities of putting effective data stewardship in place.
Roundtable discussion
The Data Management Summit wrapped up with a glass of bubbly and roundtable discussions dedicated to the role of the chief data officer, blockchain development, regulation and risk management, best practices for data standardisation and quality, and how to establish a strong data governance framework.
If you would like to join the action at A-Team's next Data Management Summit in New York City on 17 November, you can register here.