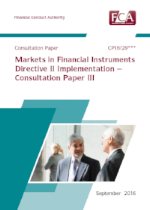 The Financial Conduct Authority (FCA) has issued a third consultation paper on UK implementation of Markets in Financial Instruments II (MiFID II). The deadline for comments on the paper is January 4, 2017, just a year before the regulation takes effect.
The consultation paper – which you can access here - seeks views on proposed changes to the FCA handbook on MiFID II. It is split into two parts, the first covering conduct of business issues, and the second dealing with other matters that the FCA has not previously included in consultation papers.
Conduct of business issues that the FCA proposes to change or update in its handbook include inducements including adviser charging, inducements and research, client categorisation, disclosure requirements, suitability, appropriateness, dealing and managing, and investment research.
Other matters include product governance, knowledge and competence requirements, recording of telephone conversations and electronic communications, supervision, authorisation and approved persons, and guidance on scope changes in MiFID II, such as the inclusion of foreign exchange derivatives and commodity derivatives.
The paper notes which issues are expected to affect which type of financial firms and notes the impact of each issue on consumers.
The deadline for responses to the consultation paper is January 4, 2017, except for comments on supervision, authorisation and approved persons that must be submitted by October 31, 2016. The FCA will then consider feedback and publish a policy statement covering all aspects of its implementation of MiFID II in the first half of 2017.