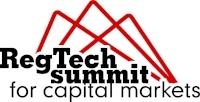 Whether you define RegTech as the application of technological innovation to reduce the burden of regulatory obligations, or the digitisation of regulatory compliance processes, it is promising to play a significant part in solving the compliance conundrum by reducing complexity, cutting costly manual processes and delivering accurate and timely regulatory responses.
Ahead of next week's A-Team Group RegTech Summit for Capital Markets in London, where we will showcase some potentially influential RegTech suppliers, we have curated a list of 10 of our favourite RegTechs – just let us know if you should be on the list – to provide some ideas on solutions available in the market. Here they are, in no particular order:
Encompass – A creator of KYC automation for financial services firms, Encompass provides products that robotically search structured and unstructured information sources to automate KYC, anti-money laundering (AML) and extended due diligence (EDD) policies. The focus is on simultaneous, real-time access to multiple sources of global company and person data, and delivering more efficient processes and faster, safer regulatory compliance, resulting in lower costs and better risk management. Encompass will showcase its technology at the London RegTech Summit.
Onfido – Onfido also focuses on Know Your Customer (KYC) and client onboarding. It automates background checks across live feeds from all the data suppliers it works with. Results are automatically served directly to the client. The service also innovates with its pricing model, by creating a more granular, pay-for-what-is-used payment structure. See Onfido in action during the showcase at the London RegTech Summit.
SteelEye – Provider of cloud-based data aggregation technology that uses an open application programming interface (API) framework to create a central platform. The platform includes a web interface, data analytics, immutable storage and is data source agnostic. Its application to Markets in Financial Instruments Directive II (MiFID II) covers record keeping, trade reconstruction, transaction reporting and best execution.
LEI Smart – This is a New York-based service focused on the MiFID II demand for Legal Entity Identifiers (LEIs) in trading. It provides firms with a range of capabilities for managing LEI data that home-grown systems may not have. Capabilities include monitoring a firm's LEI registrations, mapping customers and counterparties to LEIs, and raising alerts about LEI updates. LEI Smart will showcase its RegTech solution at A-Team's New York RegTech Summit on 16 November.
Alyne – Alyne is a content centred RegTech and next generation software-as-a-service (SaaS) solution. It enables organisations to mature their cyber security, risk management and compliance capabilities and cost effectively measure maturity across the extended enterprise. It is focused on technology and operational risk, making it relevant to financial regulations. It also supports data privacy rules of regulations such as General Data Protection Regulation (GDPR). See Alyne at next week's RegTech Summit in London.
Privitar – A provider of technology dedicated to solving data privacy challenges including those presented by GDPR. Privitar Publisher creates an anonymised copy of data so that individuals in a dataset cannot be identified, although the data can still be used for analytics, machine learning and sharing with trusted parties. Privitar Lens enables sensitive data to be queried without direct access to the data and without disclosure of individual identities.
FeedStock – Playing well into MiFID II research unbundling requirements, FeedStock uses machine learning to identify and categorise research types, and provides workflow that allows research documents, charts and tables to be stored and organised on a personalised, interactive platform with search, evaluation and collaboration tools for fund managers and analysts. FeedStock analytics supports buy-side firms that must budget and pay accurately for research under MiFID II.
Alpha Exchange – Also in the MiFID II research space, Alpha Exchange delivers an end-to-end solution that offers buy-side firms a single platform that aggregates and organises external and internal research content, tracks and analyses research consumption, and allows analysts to collaborate on internal research. On the sell-side, Alpha Exchange offers multiple research distribution strategies and pricing models to facilitate research monetisation under MiFID.
Ipushpull – Provider of a cloud service and workflow tools that allow businesses to share data and other information seamlessly, without using email attachments or file sharing. It supports MiFID II research budgeting, allowing users to monitor and track research consumption and optimise budgets. It also supports MiFID II pre-trade transparency around quote dissemination by voice brokers and provides compliance in hours, not months.
RegTek Solutions – A provider of managed services hosted in the Amazon cloud for regulatory trade and transaction reporting. RegTek is the new home of the Report-it suite of software controls including Validate.Trade, Reportable.Trade, Load.Trade and Reconcile.Trade. Its mission is to offer cost effective software solutions to firms looking to improve the quality, transparency and control of their regulatory reporting systems. Meet RegTek Solutions at the A-Team RegTech Summit in London next week.